About Us
My name is Michele Godemann, and I run a small home based business that offers personalized attention to you and your dog. I am a member of NADOI, the National Association of Dog Obedience Instructors, and have been instructing dogs and owners since 1983. I have had success as a trainer, handler, and exibitor in AKC obedience, tracking, and agility. I have also had experience in Schutzhund competition. In years past, my personal dogs have been involved in demonstrations that show the importance of a well trained dog.
Story Behind my Business
Growing up, my family was not involved with dogs. In 1976, at the age of twenty three, I was given my first dog. He was a four month old doberman pinscher with the registered name of Ceasar of Northwood (below). Little did I know, my life would change completely. We entered obedience classes and my love of dogs and training grew. Together, we went on to a succesful career in obedience and tracking. More dogs and competitions followed, and soon I was branching out to help others with their dogs. A few years later, I created a business called Northwood Dog Training in 1983.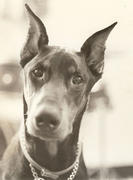 My Contact Information
Located in Conyers, Ga.
Business phone
770-7608092
Cell phone
770-3135759
Questions? E-mail me.